Postgrad student gets National Youth Award
WHAT does it take to be successful not only in academics, but also extracurricular activities? For postgraduate candidate Dailami Daniel Mat Nor, 28, he always believed in making continuous improvements in life without giving any excuses.

Adhering to the philosophy of life that "the best of people are those who are the most beneficial to people", Dailami, an alumnus of MRSM Besut, Kolej Mara Kulim and Universiti Kuala Lumpur-Malaysian Institute of Marine Engineering Technology (UniKL-MIMET), was awarded the National Youth Award 2019 (Gold Premier Youth Award) by Prime Minister Tun Dr Mahathir Mohamad recently.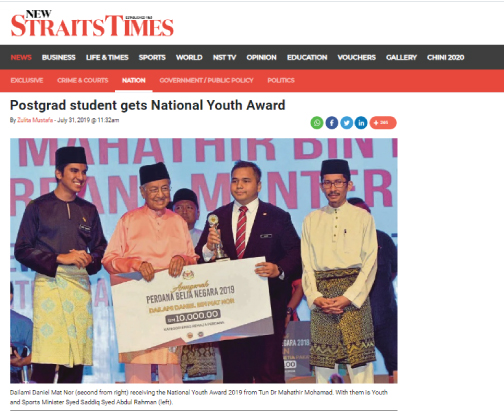 It recognises youth engagement in terms of personality, leadership, contribution and experiences in volunteerism.
"I felt honoured and grateful to receive this award, which reflects my involvement in society, especially in youth development programmes," said Terengganu-born Dailami.
"This award will continue to inspire and encourage me to keep moving forward with my future endeavours in community service, social and leadership projects.
"I have proven that my efforts throughout the years are not in vain. Significantly, I also believed that this award boosts my confidence in pacing through the path I have chosen."
Being an active student not only during school years, but also throughout his university life proved that Dailami managed to balance his studies.
"My classes are on Saturdays, a full day from morning to evening. I usually arrive around 8am and by noon I consider it as the networking period, where I'll have lunch with my classmates because the majority of them are chief executive officers running their own companies.
"This helps me widen my network," he added.
Dailami is pursuing his doctorate in Entrepreneurship Development at Unirazak to expand his effort and knowledge as an entrepreneur.
When he was doing his bachelor's degree in marine engineering (architecture and ship construction) at UniKL, Dailami was active in volunteerism and leadership activities.
"I was not the kind of person who think of only studying all the time. No matter how busy I was, I always found a way to be active and contribute to the nation and others.
"I was involved in a lot of extracurricular activities, including volunteering missions whether locally or internationally, such as in Indonesia, Vietnam and Thailand."
Dailami participated in the Asean-India Student Exchange Programme 2013, International Youth Conference in Jakarta in 2013, and Japan-East Asia Network of Exchange for Students and Youth, or JENESYS, in 2016.
He recalled his participation at the Green Summer Volunteering Campaign 2014 in Vietnam, which required him to be there for a month. Sponsored by Yayasan Sukarelawan Siswa, he and other volunteers helped local communities in "gotong royong" activities, besides cleaning up farms, repairing bridges and giving free tuition.
"That was a chance for me to know more about Vietnamese custom and culture. In fact, we also provided exposure to Vietnamese volunteers so that they too could better understand Malaysia as we are all in the Asean community.
"I am also the founding President of UniKL-MIMET Rakan Muda Secretariat (SRM) in 2014, that helps to shape leadership and volunteerism spirit among the students.
"I believed that the keys to my success are a good time management skills and persistency. With these two, I can actually decide what I want and strive for it. My greatest goal in life as well as my personal goal is to achieve as much success as I could and use it to shape the individual I strive to be," he said, who was also a rugby player where he represented his university.
He added that playing on the field shaped his self-confidence. Dailami, who looks up to Tan Sri Syed Mokhtar Albukhary, said always "be persistent in your road to achieve success and never give up until you make it".
"For me, how Syed Mokhtar built up his own empire as a businessman was inspiring and I do wish one day, I will be able to achieve what he had achieved," said Dailami, who also had an experience working as an offshore engineer with Petronas for two years.